Bid against COVID
A digital art auction in favor of the UNICEF emergency fund for India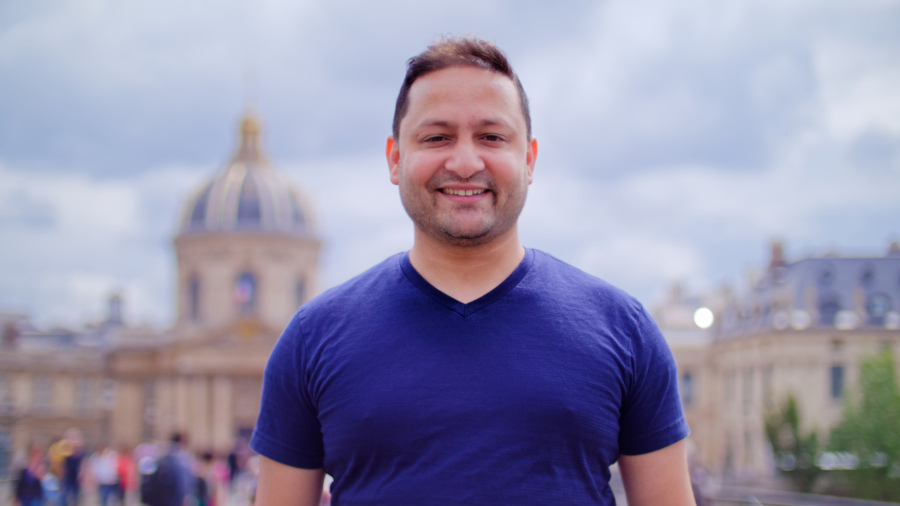 Update 28.06.21: the winner is Mr. Aditya Joshi
It is our honour to announce that Paris-based Management Consultant Mr. Aditya Joshi is the winner of the #BidAgainstCOVID digital art NFT auction. More than 1000€ (close to 1 lakh) were raised for UNICEF. We extend our warmest thank you to Mr. Aditya Joshi and to those who took part in this process.
As Aditya Joshi said: "I believe in creativity and in technology. That's why I bid for something I believe in. Plus, we're all here on earth to help each other. If my bid helps anyone get the support needed during these difficult times, it's the most important thing for me! I applaud Avishai & Mahina's brilliant work and also UNICEF's collaboration in this initiative to help India in these times."
About Aditya Joshi
Aditya Joshi is an Indian living in Paris since 7 years. A true artist by heart, Aditya is passionate about arts, music and culture. Aditya tries to extend help & support for the Indian diaspora in France as much as possible.
Aditya is currently working as a Management Consultant in Paris, but he's happy being known as an arts-lover, a musician, an avid reader, a sports enthusiast and above all a fun-loving person.
We raised awareness.
Now we are raising money.
In 2020, we raised awareness about COVID-19 using Indian classical dance, in a short movie which touched millions of hearts in India and beyond: "Stay Safe". Today, we are raising money against COVID-19. We are selling "Stay Safe" at auction as a work of digital art, using the NFT crypto art technology.
All benefits will go to the UNICEF emergency fund for India, which is being used to provide lifesaving supplies and ease the ongoing outbreak. Help India defeat COVID-19, make a bid against COVID!

Auction details
Opening time: 21.06.2021 at 12:00 UTC / 14:00 CET / 17:30 IST
Closing time: 28.06.2021 at 12:00 UTC / 14:00 CET / 17:30 IST
Platform: Rarible
Cryptocurrency: Ether
Minimum bid: 0.1 ETH (~200$ / 170€)
How to bid
Go to the auction page on Rarible and connect your cryptocurrency wallet (make sure you have Ether). If you are new to cryptocurrencies and NFTs, check out this page for a step-by-step tutorial.
 Why buy this video?
What is the point of buying a video which is already there on the Internet, you may ask? Well, just like any other work of art, you may like to own the original and have it straight from the artist. In this case, blockchain entries will prove to the rest of the world that YOU are, indeed, the owner of this video.
What is the value of it, then? Like most works of art, it is up to you to decide. But do consider these:
1. You are buying a piece which brought hope and healing to millions in time of hardship.
Shot within 2 days in our living room in Paris, this video eventually reached millions of people around the world and was used by official bodies and public TV channels in India as part of their awareness campaigns to save lives.
2. You are collecting a unique and authentic work of art.
"Stay Safe" is considered innovative for its use of a thousand-year-old Indian dance (Odissi) to convey a contemporary and universal safety message. It was featured by the Asian Art Museum (San Francisco) and is now a case study in Cultural Anthropology at the University of Bologna (Italy). "Stay Safe" is part of our unique, longstanding artistic work at the crossroads between ancient Indian arts and new technologies. It is sold as a 1-of-1 NFT – which means it will never be sold again and you will own a truly unique piece.
3. You are actively supporting the fight against COVID-19 in India and beyond.
The situation in India is a tragic reminder that no country will be safe as long as COVID-19 persists somewhere. 100% of the benefits of this auction will go to UNICEF which provides lifesaving supplies to India and is a main actor of COVAX for universal access to vaccines.
"Stay Safe" credits
Concept: Mahina Khanum & Avishai Leger-Tanger
Choreography: Mahina Khanum
Video: Avishai Leger-Tanger
Original music: © Association Lez'Arts Media / Mahina Khanum, Vijay Tambe (composition & flute), Ramprasad Gannavarapu (mardala), Aparna Deodhar (sitar)
Location: our sweet confined home!